Wrap dresses are brilliant, they:
work on all ages & body shapes
adjustable for changing body types
timeless
flattering & feminine
look great with sleeves
However, as a personal stylist in Sydney, I see this fashion mistake being made all the time.
It's not pretty, and there's a better way.
Let me show you how to dress it…
What's Your Fashion Style?
Do you layer under your wrap dress because you:
Want to cover your cleavage?
Find wrap dresses doesn't fit well?
Simply need an extra layer of warmth?
Whatever your reason, here's some fashion tips to help…
Give Your Wrap Dress A Modern Makeover!
The Fashion Problem
As an image consultant I frequently see people wearing a contrast camisole under their wrap dress which means the line of the dress is totally spoilt as that small triangle of fabric is the only thing we really notice about your fashion style!
The Fashion Solution
STYLE TIP 1:
Why not give it a make over by layering a tonal or matching cami instead – matching the ground or main colour of the dress? (the colour you see when you squint)
There's more of a colour flow so we notice how lovely you look in your overall clothes style.
Much more harmonious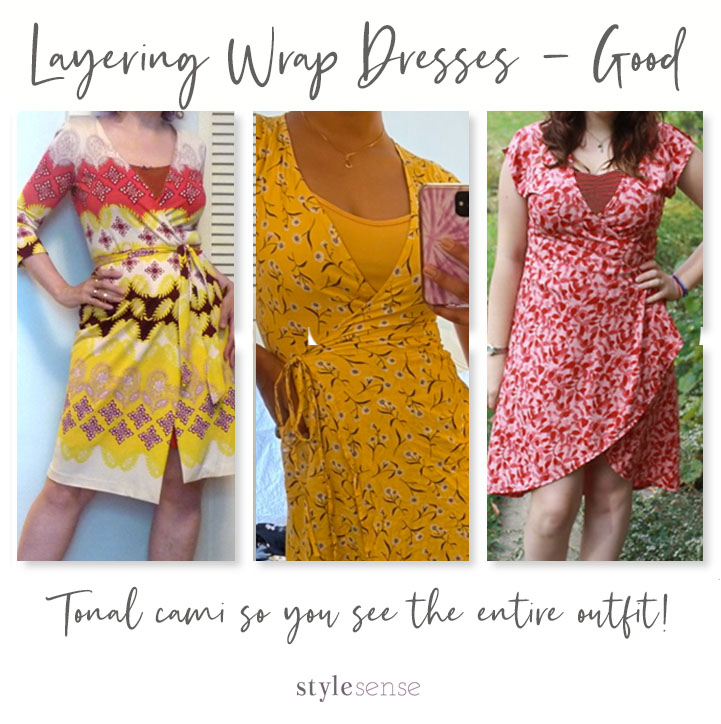 Having a Wardrobe Stylist Peak! 👀

I spend a lot of time looking through womens wardrobes and often find that clients already own a similar colour camisole because they like the colour of the dress and therefore buy it in several different clothes styles, so check your drawers & wardrobes Sydney!
STYLE TIP 2: Another option is layering a delicate and expensive looking SILK LEAVERS LACE BRALETTE if suitable for the situation, like this @Zara example
Again, can be tonal in shade and never has to match exactly because the lace is a different fabric to the dress so it will never match perfectly
Other brands offer similar in larger bra sizes
Avoid automatic pilot of layering black or white, instead experiment with tonal camis or lace trim bralettes which look much more sophisticated, flattering & modern.
An why not dress epic everyday?
———————————————–><———————————————